Welcome
SECOND SUNDAY OF ADVENT  DECEMBER 4, 2021 5:00 P.M.
*****************
DEDICATION of  ST. BENEDICT PARISH MILTON: November 28, 2021 2:30 P.M.
---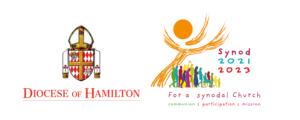 2021-2023 SYNOD OF BISHOPS brings an invitation from Pope Francis to embark on a journey together. How can you get involved? Offer your thoughts on how we can deepen our communion in the Lord and how all members of the Church can participate more fully in its mission.
Visit: https://hamiltondiocese.com/synod/#about.
*****************
STATEMENT FROM THE CANADIAN CATHOLIC BISHOPS ON RECONCILIATION WITH INDIGENOUS PEOPLES OF CANADA
---
MESSAGE FROM FATHER JIM PETRIE: October 1, 2021
Dear parishioners of Saint Benedict Parish:
We remind you that health protocols remain in place.  This means that social distancing of six feet between different social bubbles and face masks are mandatory in the church.  I totally understand that people are growing weary of these protocols BUT we must comply with government regulations to ensure that our churches remain open.  Thank you for your continued compliance in this matter.
Once again, we remind you that if you are unwell, please do not come to Mass.  Please watch Mass on television or on the internet.  One option is our parish livestreamed Mass which happens on Saturdays at 5:00 pm and is uploaded onto our parish YouTube channel for viewing the entire week.  Our parish YouTube channel link is:
On October 11th, we celebrate Thanksgiving Day, we are having Mass at 9:00 am.  It will also be livestreamed so If you are unable to attend physically, please feel welcome to join us virtually.
Finally, after three short months we say goodbye to Father Vivek Trindade from our parish community.  Father Vivek was ordained by Bishop Crosby for the Diocese of Hamilton in May of 2019.  He came to us from our neighbouring parish, Holy Rosary in Milton.  Bishop Crosby has now assigned him as administrator of Saint Anthony Daniel Parish in Kitchener effective Monday October 4th.  We thank him for his stay with us since he touched many people in our parish.  His kind and gentle style and warmth made him in endearing person to approach.  May the blessings of the Lord and the prayers of Mary our Mother come upon Father Vivek as he embarks on a new phase of his ministry to the people of God.
Father Vivek's departure means that I will be alone once again in the parish.  This necessitates that we need to return to having only one daily Mass from Monday through Friday at 9:00 am and the evening Masses are suspended until further notice.
Beginning Sunday October 3rd, Mass in the French language will be offered at Saint Benedict Parish every Sunday afternoon at 4:00 pm.  If you wish to attend, you are more than welcome to do so.
Have a wonderful Thanksgiving!
God bless,
Father Jim Petrie