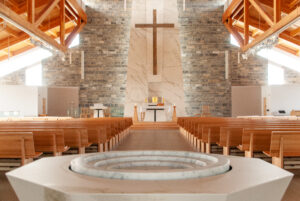 SACRAMENT OF RECONCILIATION (CONFESSIONS)
Saturday: 3:30 p.m. to 4:30 p.m. or by appointment
SACRAMENT OF BAPTISM OF CHILDREN
Celebrated the second and fourth Sunday of the month at 1:30 p.m. Contact the parish office to arrange date and to arrange a pre-baptismal course at least two months before preferred date.
SACRAMENT OF BAPTISM OF ADULTS
A period of preparation is necessary and it is imperative that individuals complete the Rite of Christian Initiation for Adults (RCIA). Please see Father Larry for more information.
SACRAMENT OF MARRIAGE
Couples planning to marry should contact the parish office at least a year prior to desired date of marriage. Preparation course is essential.
CATHOLIC FUNERAL RITES
When a death occurs in your family, please contact the parish office before contacting the funeral home, and we will assist you in making liturgical arrangements. The Catholic Cemeteries of the Diocese of Hamilton is: www.catholiccemetries.ca
---
CATECHETICAL CORRESPONDENCE COURSES
Do your children attend public or private school or do you home-school? If you are wondering how to support their ongoing formation in religious education, the Diocese of Hamilton offers Catechetical Correspondence Programs for every age and stage from Kindergarten through to High School including programs specially designed to assist children preparing for the Sacraments of First Communion and Confirmation. Click here for more information or contact Sybil at 905-528-7988 x2339 or email:catechesis@hamiltondiocese.com.