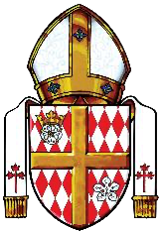 INDIGENOUS RECONCILIATION FUND
There will be a special collection for the Indigenous Reconciliation Fund. This fund is  pledged towards healing and reconciliation initiatives.  Envelopes will be distributed on the weekend of May 7/8 and  the collection is on the weekend of May 14/15.
---
BULLETIN ANNOUNCEMENTS
May 2022
Join the Reel Justice Film Festival May 26, 2022 7:00 PM – 9:00 PM for our last screening of the season, He Named Me Malala. This documentary provides an intimate portrait of Nobel Peace Prize Laureate Malala Yousafzai, who was targeted by the Taliban and severely wounded by gunfire as a 15-year-old. She miraculously survived and is now a leading campaigner for girls' education globally as co-founder of the Malala Fund. The Reel Justice Film Festival is a partnership between Development & Peace and the Bishop Farrell Library & Archives. Visit us online at https://reeljusticefilmfestival.wordpress.com/ to register!
ON-LINE LEARNING OFFERED THROUGH DAYTON UNIVERSITY (VLCFF) – The Diocese of Hamilton is pleased to have The University of Dayton: Virtual Learning Community for Faith Formation (VLCFF) as a partner in adult faith formation. The VLCFF is a living adult faith community offering online learning opportunities to address the learning needs of adults in our Diocese.  To Inform, Encourage and Heal is a NEW four-week online seminar in which you will have opportunity to engage meaningfully in the work of the Truth and Reconciliation Commission. Following the course texts and online discussions, you will gain a greater understanding of your role as a Catholic Christian in the work of reconciliation and solidarity in support of Indigenous communities. For more information or to register for the June 2022 session, visit https://www.hamiltondioceselearns.com/ or email catechesis@hamiltondiocese.com.
The Office of Youth Ministry is pleased to present Accompanying Forward – An Afternoon with Roy Petitfils on May 27 at 1 pm for a virtual conversation about accompanying young people as they try to navigate their new realities and their mental health.  Roy is a Catholic author, speaker and psychotherapist with more than 25 years of experience ministering to youth and young adults in parishes, dioceses, and schools.  Registration can be found by clicking here or on our Diocesan website under Youth Ministers Events and Resources.
The Ignatius Jesuit Centre will be hosting an 8-Day Retreat on Listening to Indigenous Voices May 18 @ 7:30 pm – May 26 @ 1:00 pm. Facilitated by Shasha Sky and Dave Skene from White Owl Native Ancestry Assoc. in collaboration with Victoria Blanco, Mark Hathaway, and Trevor Scott, SJ, from the Jesuit Forum for Social Faith and Justice. The group gathers to acknowledge Truth and Reconciliation Call to Action #60, and educate on the ways we can honour and respect Indigenous spirituality and the history of residential schools in Canada. Cost and accommodation information can be found at www.ignatiusguelph.ca.
Do No Harm Webinar series, hosted by the Sisters of St. Joseph and the Collaborative Network to End Exploitation
"Frontline workers, survivors, and other experts share insight into the unintentional harms and impacts of some human trafficking practices and policies in this weekly webinar series. The series begins Thursday, May 5 at 2 p.m. (EDT) and recurs on Thursday each week until June 9. Registration information can be found on the Sisters of St. Joseph (Toronto) website, www.csj-to.ca.
Aging with Wisdom and Grace is the fifth talk for the Hamilton Diocesan Speaker Series. Using her own experiences and the wisdom of her contemporaries, Dr. Elizabeth Bookser Barkley will explore some of the physical, emotional and psychological issues we face as we age. The presentation will be interactive, challenging participants to reflect on their own aging journey. Pope Francis has repeatedly spoken of the importance of the elderly in our society, so join us to embrace this important stage of every person's life. Dr. Bookser Barkley, Ph.D., is a professor of English at Mount St. Joseph University in Cincinnati, Ohio. She is the author of four books, including Life After Death: Practical Help for the Widowed, and numerous other feature articles. She is married, the mother of three daughters and the grandmother of seven. Join us Wednesday, Mat 18 from 7-8:30p.m. Check the Diocesan website at https://amorislaetitia.hamiltondiocese.com/ for more information on the series and to register. For more information contact Teresa Hartnett at thartnett@hamiltondiocese.com, or 905-528-7988 ext. 2250.
PARENTING TIP OF THE MONTH – Parenting Tip 140: As the buds begin to sprout and the weather allows us to head outdoors more often, take some time to discuss the importance of God's created world with your children. Point out the connectedness of each of us to nature and our dependence on it to survive. Help them understand that every person is tasked with being a steward of God's world. Explain how we can each participate in caring for nature and remind them that when we each do our part, nature thrives and so do we. From: Family Ministry Office; 905-528-7988 ext. 2250.
MARRIAGE TIP OF THE MONTH – Marriage Tip 120: It is true to say that no two people think exactly alike and that is why being married can sometimes be challenging! What makes complete sense to one person, may not make sense to the other; what one likes the other may not; what is funny to one, may be anything but to the other! It is important for married couples to constantly remind themselves that marriage does not mean you are exactly the same. Allow room for differences and don't judge your spouse on your own likes and desires, but instead try to move together to a more neutral place that you can both live with. And sometimes, agree to disagree! Your spouse has many diverse qualities, embrace them when you can and work to negotiate when you can't, so love will flourish and provide a strong foundation for all of it! From: Family Ministry Office, 905-528-7988 ext. 2250.
ReStart – Starting over after separation or divorce with support, care and tools for your journey. We invite you to our upcoming zoom sessions one on Wednesday, May 11th and one session Thursday, June 9th starting at 7 p.m. Check out the Diocesan website at: https://hamiltondiocese.com/offices/family-ministry/divorce-separation.php to register and find out more detail. If you have questions, call the Family Ministry Office at 905-528-7988 ext. 2249.
Grief Relief – Has someone you cared about died? Are you grieving the loss of the person's presence in your life?
Are you looking for relief from the feelings associated with the loss of this loved one? You are not alone! The Diocese of Hamilton will be offering a four week online grief program on Tuesday evenings from 7 – 8:30 p.m. May 17, 24 & 31, and June 7, 14 & 21st. Find out more on the Diocesan website and register to receive the zoom link athttps://hamiltondiocese.com/offices/family-ministry/grief-support, or call Teresa at 905-528-7988 ext. 2250.
Wedding Anniversary Mass 2022 Registration – The Wedding Anniversary Mass, which would normally have been scheduled for June of 2022, will not occur this year due to the continued concerns around COVID-19. We invite you to register your 25, 40, 50, 60 and 60 plus years of marriage on the Diocesan website at https://hamiltondiocese.com/ and we will be happy to send you the certificate you would have received from Bishop Crosby at the Mass. The Wedding Anniversary Mass is listed on the home page under Upcoming Events.