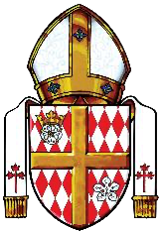 "Walking Together" – Papal Visit to Canada   July 24 to 29, 2022
The Holy Father will visit Canada from July 24 to July 29, 2022. Pope Francis' historic visit to Canada will provide an opportunity for the Pope to listen and dialogue with Indigenous Peoples and to address the impact of residential schools in Canada.
The Holy Father will begin his Canadian visit by traveling to Edmonton, Alberta, then to Quebec City, St. Anne-de-Beaupré and then to Iqaluit, Nunavut before returning to Rome.
Drawing on the theme, "Walking Together", the Holy Father's journey of reconciliation, healing and hope includes visits to a former residential school, Indigenous pilgrimage sites, and several private and public events, including two public Masses.
Find out more at the Papal Visit's official website: http://www.papalvisit.ca/ (English) or http://www.visitepapale.ca/ (French). You can also find detailed information on the Healing and Reconciliation Journey via the diocesan website.
SECOND WORLD DAY FOR GRANDPARENTS AND THE ELDERLY
On July  24, 2022 we will celebrate the second World Day for Grandparents and the Elderly. Pope Francis' goal of creating this yearly world day was to bring attention to our need to care for our elderly. The Vatican Dicastery for Laity, Family and Life has prepared some excellent material for the day.
World Youth Day (WYD) is the gathering of young people from all over the world with the Pope.  It is also a pilgrimage, a celebration of young people, an expression of the universal Church and a beautiful moment of evangelization for the youthful world.
Letter of Endorsement, re WYD2023 from Bishop Crosby, June 15, 2022
---
 BULLETIN ANNOUNCEMENTS
June 2022
Bishop Farrell Library Open House! Join us June 25th 2:00 – 5:00 and June 26th 10:00 – 3:00. Located at 698 King St. West, on the beautiful grounds of the Cathedral Basilica of Christ the King. Learn about The Saint John's Bible and our Library resources. Free books available!
NEW:  CATECHIST FORMATION PROGRAM – The Diocese of Hamilton is pleased to offer a catechist formation program through Dayton University's Virtual Learning Community for Adult Faith Formation. This program is open to Pastor recommended candidates. Topics covered during our year together will include:
The New Directory for Catechesis

The relationship between evangelization and catechesis

Sacramental preparation

Culture and its impact on ministry

Additional specialized formation for ministry with all stages of life.
For more information contact your Pastor or the Evangelization and Catechesis Office catechesis@hamiltondiocese.com.
Family Love: A Vocation and A Path to Holiness is the sixth and final talk for the Hamilton Diocesan Speaker Series celebrating the Year of Amoris Laetitia Family. Our guest speaker will be Most Reverend Daniel J. Miehm, Bishop of the Diocese of Peterborough and former Auxiliary Bishop of Hamilton Diocese.  Bishop Miehm will look at how through the life of the family and the love shared by its members, children learn about themselves and the seeds of their vocation are born. Every person is called to live in their family knowing the family itself is a call to an important vocation. Parents and children find their path to holiness with the vocation of the family. Join us Wednesday, June 15th from 7-8:30p.m. Check the Diocesan website at Speaker Series – Amoris Laetitia www.hamiltondiocese.com to register. For information, contact Teresa Hartnett at thartnett@hamiltondiocese.com or 905-528-7988 ext. 2250.
PARENTING TIP OF THE MONTH – Parenting Tip 141
Summer days are upon us, a perfect time to unwind a little and spend some quality time as a family. Playing outdoor and indoor games, walking in nature, having water balloon fights and taking time to thank God for our many blessings are all ways to build relationships with each other. Children need to be well connected to their family in order to feel safe, secure and important. Time together is the best way to build these significant bonds. Family Ministry Office.
MARRIAGE TIP OF THE MONTH – Marriage Tip 121
Finances are one of the major issues that cause angst in couple relationships, but you can take control of the situation to prevent problems. Sit down at least once a month and look in detail over your expenses, income and upcoming obligations; do a short weekly check-in. Each person should know exactly how much money there is for "free" spending and how much is needed for financial obligations. Discussing your priorities, compromising on expenditures when necessary and living by the motto that you will spend less in a month than you take in, can prevent stress that impacts the love you feel for each other. Family Ministry Office. .
ReStart – Starting over after separation or divorce with support, care and tools for your journey. We invite you to our upcoming zoom sessions one on Thursday, June 9th starting at 7 p.m. Join us for this informative session. Check out the Diocesan website at: https://hamiltondiocese.com/offices/family-ministry/divorce-separation.php to register and find out more detail. You can also check this page for information about our upcoming ReStart program taking place this fall. If you have questions, call the Family Ministry Office at 905-528-7988 ext. 2249.
Grief Relief – Has someone you cared about died? Are you grieving the loss of the person's presence in your life?
Are you looking for relief from the feelings associated with the loss of this loved one? You are not alone! The Diocese of Hamilton will be offering a six week online grief program on Tuesday evenings from 7 – 8:30 p.m. You are welcome to join all or any of the sessions on June 7, 14 & 21st. Find out more on the Diocesan website and register to receive the zoom link at https://hamiltondiocese.com/offices/family-ministry/grief-support, or call Teresa at 905-528-7988 ext. 2250.