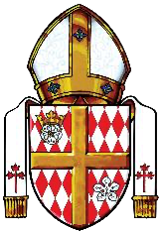 MESSAGE OF HIS EXCELLENCY,  BISHOP CROSBY, FOR THE SOLEMNITY OF PENTECOST
Let us return with Joy!
 Dear Friends:
For the past three years, the world has been shaken by the Covid-19 virus, and our lives have been changed as we sought to observe the many protocols which were established for our health and safety. These included frequent periods when we were unable to come together to celebrate our faith and be nourished by the Sacraments. On several occasions our churches were closed, and we were unable to celebrate the Sunday Eucharist, which is so fundamental to our Catholic way of life. [READ MORE]
---
 BULLETIN ANNOUNCEMENTS
JUNE 2023
Young Adults Night – July 1st – Our diocesan Vocations Office invites all young adults (ages 20s & 30s) of our diocese to attend our Canada Day Young Adults Night. Arrival and Holy Hour in the church (6:30pm-7:30 pm), social with food, testimony/talk and Compline (9:00pm) in the Hall followed by Canada Day Fireworks from the Hill. Basilica of Our Lady Immaculate (28 Norfolk Street, Guelph). For more information, please contact: vocations@hamiltondiocese.com.
Hamilton Diocesan Marian Days – These days will be celebrated from June to October 2023 at the Basilica of Our Lady Immaculate in Guelph. The day will start with Confessions at 9:00 a.m. followed by Mass at 10:00 a.m., Rosary Procession at 11:00 a.m. and lunch at 12:00 p.m., Holy Hour and Marian Catechesis at 1:00 p.m.  The day will close with Benediction at 2:00 p.m. Please bring your own lunch. Coffee and Tea will be available. Presiders will be, Bishop Matthew Ustrzycki: Saturday, June 3; Bishop Douglas Crosby: Saturday, July 1; Bishop Gerard Bergie: Saturday, August 5; Bishop Wayne Lobsinger: Saturday, September 2; Thomas Cardinal Collins: Saturday, October 7.
Adult Faith Formation through VLCFF – The Diocese of Hamilton is proud to partner with Dayton University's Virtual Learning Community for Adult Faith Formation (VLCFF) to offer certificate programs for ministry and enrichment for adult faith formation.  We are currently taking enrollment for the Youth Ministry Certification Program and the Catechist Formation Program for the Diocese of Hamilton, which begins in September 2023.  Three and five week e-seminars are also available at a discounted rate for all adults in the Diocese looking to further their learning.  For more information about our programs, and how to register, visit us at www.hamiltondioceselearns.com.
World Youth Day in the Diocese of Hamilton – Did you know that 39 delegates from the Diocese will be traveling to the international celebration of World Youth Day in Portugal this summer?  Led by the Holy Father, Pope Francis, these pilgrims will have the opportunity to pray alongside thousands of young people from around the world in celebration and thanksgiving for the gift of the Holy Church.  We need your help!  Please pray for our young people on their journey and keep up to date on our pilgrimage by following us on social media: @officeofyouthministry (Instagram) or "Diocese of Hamilton Office of Youth Ministry" (Facebook).
To Inform, Encourage and Heal – June is Indigenous History Month in Canada.  We invite you take time in this season to learn more about the Catholic Church's commitment to ongoing reconciliation efforts with Indigenous communities through a four-week learning opportunity through the VLCFF (Virtual Learning Community for Adult Faith Formation).  To learn more about this study, please visit us at www.hamiltondioceselearns.com.
Did You Know? Children in our parishes benefit from the Catechetical Correspondence Program each year for ongoing religious education and preparation for the Sacraments.  We need volunteers to support the program!  If you are willing to accompany these children in their learning journey, please reach out to the Office for Evangelization and Catechesis at catechesis@hamiltondiocese.com. To learn more about the Catechetical Correspondence Program, please visit: https://bit.ly/DOHCCC.
In Person Visits with The Saint John's Bible are back! If you are interested in having The Saint John's Bible visit your parish or school, visit our website for programming information and booking details. Virtual and hybrid programming available, too! https://hamiltondiocese.com/stjohnsbible/.
Frassati Leadership Program – Young people entering grade 10 in September are invited to register for the Frassati leadership program. This year long program is designed for young Catholic leaders who want to expand their Catholic leadership skills and grow in their relationship with Christ and their communities. For registration and more information please visit: https://hamiltondiocese.com/offices/youth-ministry/frassati.
Mount Mary Immaculate Retreat Centre – Mount Mary Immaculate Retreat Centre would like to welcome any groups or individuals looking to book a retreat experience. With a large Chapel and acres of untouched green space Mount Mary is an ideal location for anyone seeking a space for a retreat. For more information and to book your retreat please visit www.mountmary.ca.
Do No Harm Webinar Series: Decolonizing Anti-Human Trafficking Work – Held in partnership with the Collaborative Network to End Exploitation, we invite anti-human trafficking advocates to learn from experts and critically reflect on our work. Each week we will explore ways our colonial history has impacted human trafficking as it pertains to Indigenous Communities in Canada. Held Tuesdays, 1pm EST, beginning June 6, 2023. Visit https://cnee.eventbrite.ca to register
Podcast: Essential but Disposable Labour, Migrant Workers Exploited in Canada – In collaboration with the Sisters of St. Joseph Toronto and the Collaborative Network to End Exploitation, we have created a podcast which centres the voices and experiences of Migrant Workers in Canada. In a limited number of bi-weekly episodes, we join in conversation with workers, immigration specialists and frontline advocates to understand the systems and policies that compose this labour market and how our Ministries can better serve this community. You can find the podcast on Spotify or visit the CNEE website here: https://www.cnee.ca/podcast/.
"Speaking Life and Truth into Our Culture" Conference Day – The Family Ministry Office is partnering with Alliance for Life Ontario and Hamilton Right to Life to offer a one-day conference looking at some of the facts surrounding the life issues which are not often spoken or read about. Dr. Lile will speak on the known facts about the abortion pill, Alex Schadenberg will discuss the ever growing concerns regarding euthanasia, Teresa Hartnett will present on the importance of pregnancy support & abortion recovery counselling and Jakki Jeffs will look at how we speak life and truth into our culture. A day of learning for all in attendance. Join us Saturday June 17, 2023 from 9 – 4 pm. Adult Tickets: $75.00; Student Tickets: $45.00 – both include lunch and beverages throughout the day. For more information go to https://allianceforlifeontario.ca/event/2023-conference/. A Gala Dinner will take place on Friday, June 16th, 2023 where all are welcome. See the same link above for more information.
Looking for some learning, support and fun on a Friday evenings? Join our RESTART: Refresh, Renew, Revive group held the 2nd & 3rd Fridays in June (no summer sessions).  These get-togethers offer continual support and insights for people as they journey through the divorce/separation process and beyond. Join in-person (700 King St. West, Hamilton), or by ZOOM. No registration required, but for ZOOM link please contact Sarah at familyministry@hamiltondiocese.com, or 905-528-7988 ext. 2249. We look forward to seeing you!
PARENTING TIP OF THE MONTH – Summer should be a time of relaxation, slowed schedules and time spent together as a family. All three of these are essential elements for good mental health for all family members, including children. So, together spend time outdoors, play games, cook or bake and pray because these are the moments that will strengthen your family bond. Take a holiday from social media and devices while doing so, which can help to prevent the negative mental health issues in children they are known to produce. Renew your commitment to in person, device free time together this summer and watch your children thrive.
MARRIAGE TIP OF THE MONTH – When we say "I do" during our marriage vows we are really saying "I will". I will love this person even in moments when they may feel unlovable. I will not look for a 50/50 split in what we do, but will be a partner who will give more, and sometimes have to take more, depending on the circumstances of our lives. I will look to find a solution instead of winning. I will spend time with you so we stay connected and in love. I will remember the commitment I made to be faithful and seek to make you a better person and accept your attempts to do the same for me. Marriage, taken as an action word, continues to grow and thrive despite the challenges life may throw at you and it produces a love strengthens as the years pass.