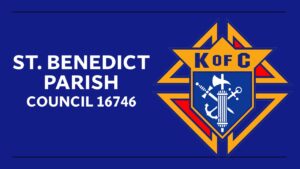 DECEMBER 2, 2022
KNIGHTS OF COLUMBUS
The Knights of Columbus will be selling Keep Christ in Christmas items at the end of each mass from December 3rd to December 18th. Thank you for your support .
---
The Knights of Columbus is the largest Catholic organization in the world with 1.9 million members. Its mission is to to empower Catholic men to live their faith at home, in their parish, at work and in their community through works of charity, fraternity and in union with the Church.
All Catholic men in our parish are invited to join the St. Benedict of Nursia Council and participate in its noteworthy activities. We meet every second Tuesday of each month.
How to Register:
By Email: koc16746@gmail.com (kindly provide your name and phone number or means to contact you)
By Phone: please call Paul Kilala, Grand Knight, (647) 823-8740