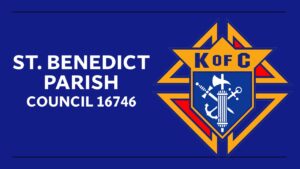 SEPTEMBER 15, 2023
St. Benedict Knights of Columbus' monthly general meeting will be held on Thursday Sept 28th at 7pm in the PArish Hall. All members are invited to attend.
---
St. Benedict KOC are pleased to organize a dinner and dance social night on November 17th at Country Heritage Park, Milton, with Live Band, DJ and Buffet Food.
Our parish has grown exponentially in the last few years. This event will be an opportunity for fellow parishioners to meet others, enjoy good food and win great raffle prizes!
Tickets are $35 each. Proceeds from the event will be donated to St. Benedict Building Fund.
For more information or to purchase tickets, please contact us  koc16746@gmail.com or visit us on stbenedictknights.ca , or call Ajay Lazarus on 647-818-1275.
---
The Knights of Columbus is the largest Catholic organization in the world with 1.9 million members. Its mission is to to empower Catholic men to live their faith at home, in their parish, at work and in their community through works of charity, fraternity and in union with the Church.
All Catholic men in our parish are invited to join the St. Benedict of Nursia Council and participate in its noteworthy activities. We meet every second Tuesday of each month.
How to Register:
By Email: koc16746@gmail.com (kindly provide your name and phone number or means to contact you)
By Phone: please call call Ajay Lazarus on 647-818-1275.