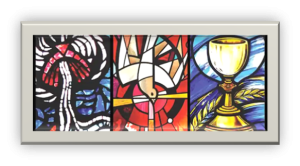 Becoming Catholic is an important decision.  Catholicism involves living a life rooted in Jesus Christ in communion with the Church.  People discerning becoming Catholic ought to consider that it is a serious life-changing choice which affects the life of you and your family.
Choosing to be Catholic includes adoption of the teachings and practices of faith of the Catholic Church including the belief in: Jesus as the Son of God, the Holy Trinity (The Father, The Son and The Holy Spirit), the Eucharistic bread and Eucharistic wine is the Body and Blood of Christ, the Virgin Mary is the mother of God and all other Catholic beliefs.
RCIA & RCIC Programs at St. Benedict Parish for adults & children residing south of Derry in Milton:
The RCIA Program runs out of the parish at 7:00 pm once a week for about 6-7 months starting in the Fall each year with completion at Easter.  It is for participants, ages 16 and up.

The RCIC Program runs out of the parish at 4:00 pm once a week for about 6-10 weeks at the parish.  It is for children 8 – 15 years of age.

Children under the age-of-reason (7 years of age and younger) may be registered for infant & young-child group baptism according to the parish requirements
ONCE YOU ARE A CATHOLIC
Once you are baptized into the Catholic Church, some of the joys you can participate in, include:
Fully participating in the Mass.

Joining and participating in Catholic ministries and social groups.

Continuing to grow in understanding Scripture and Tradition.

Enrolling your children in elementary Catholic school.