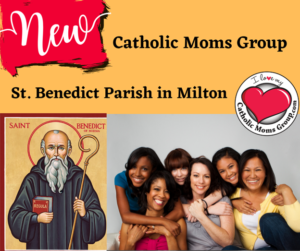 SEPTEMBER 30, 2022
CATHOLIC MOMS GROUP
The Catholic Moms Group invites moms from all ages and stages to its October meeting! During this meeting we, moms, are going to learn more about the blessings entailed in praying the Rosary. We are also going to celebrate the group's first year anniversary. There will be birthday cake to enjoy! New moms are always welcome.
When: October 18th, Time: 8 to 9 pm
Where: Saint Benedict Parish, Parish Hall
The Catholic Moms Group provides a unique opportunity to pray, learn about raising faith-filled children and laugh together with other wonderful Catholic women. We meet every third Wednesday of the month, unless otherwise indicated in the bulletin.
For any questions, contact Nelcy Lopez at stbenedictsh@catholicmomsgroup.com..Check out  www.CatholicMomsGroup.com to learn more about this amazing ministry