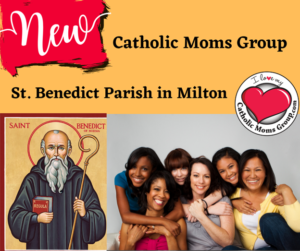 January 26, 2023
The Catholic Moms Group invites all moms to their February meeting. During this meeting we are going to take some time to carefully and thoughtfully plan our forthcoming Lent.
There will be yummy treats to enjoy! New moms are always welcome.
When: February 15
Time: 7:45 to 8:45 pm
Where: Saint Benedict Parish, Subiaco room
The Catholic Moms Group provides a wonderful opportunity to pray, learn about how to be a better mom, raise faith-filled children and laugh together with other wonderful Catholic women. We meet every third Wednesday of the month, unless otherwise indicated in the bulletin.
For any questions, contact Nelcy Lopez at stbenedictsh@catholicmomsgroup.com..Check out  www.CatholicMomsGroup.com to learn more about this amazing ministry