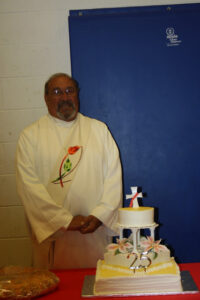 REVEREND MR. JOSEPH DIGRADO
(1943-2020)
It is with sadness that we acknowledge that Deacon Joe DiGrado passed away last Thursday, July 16th – the memorial of Our Lady of Mount Carmel.
Deacon Joe was ordained for the Archdiocese of Toronto and in due time, moved with his family to Milton, ON., where he continued his diaconal ministry in the Diocese of Hamilton at Holy Rosary and Saint Benedict parishes in the town of Milton.
He was a friendly personality and had a warm smile for the parishioners of Saint Benedict Parish.  He was present since the beginning of the parish in 2012 and waited anxiously to see the new church.  Physically this was not meant to be.  He struggled with various health issues over the last few years which became compounded over the last few weeks and months.  He was a dedicated presence to the elderly and sick of our parish.  He was actively involved in ministry at Birkdale Place Retirement Residence and at the Milton District Hospital.
Our prayerful condolences go out to his wife Cathy, his children Donna and James, his son-in-law, Paul, daughter-in-law, Patricia and his grandchildren, Danielle, Rebecca and Julia.  We remember his extended family and his brothers in the diaconate.
"Well done good and faithful servant…enter into the joy of your Master!"
(Matthew 25:23)